Buying a Glider Rocking Chair for the Nursery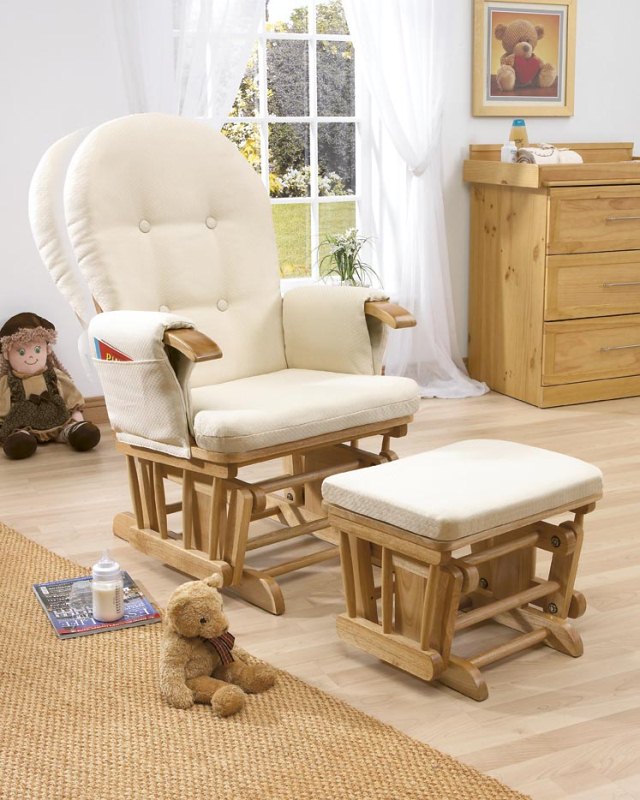 You may spot a glider rocking chair in a furniture shop and think that it will look adorable in your new nursery. The question is, will you be comfortable in it when feeding your newborn at 3 in the morning? Appearance should not be the only feature that you consider when buying your nursery furniture. It is not cheap to come up with a pretty and comfortable nursery room, so you really need to take your time when shopping for the best furniture pieces.
First and foremost, the upholstery fabric should be durable. It is highly likely that the chair will receive a lot of spills and spits. Make sure that the upholstery can take all the wear and tear. Look for a material that will not fray. Make sure that it is easy to clean. It is a big bonus if your nursery walls are plain so you can choose a glider rocking chair with dark colors or bold prints that can camouflage the stains from spills. The cushion should be comfortable enough for long period of sitting. You might even need to sleep in it from time to time. The backrest should also be cushioned and has springs for added support and comfort. The seat should be wide enough to accommodate a breastfeeding mom. You will need room for movement as it is highly likely that you will keep changing positions. A reclining mechanism is a desirable feature. This will enable you to take a nap without needing to leave the nursery room. One feature that provides safety and security is the locking mechanism. This will keep the chair from moving unless you want to. This helps prevent accidents especially when you are trying to get up while carrying your baby with you.
It is best to test out furniture pieces first before purchasing. While testing a glider rocking chair, keep the above-mentioned tips in mind. Does it provide ample support for you and the baby? Is it spacious enough to let you move around? Does it let you sit comfortably or prop yourself on an ottoman? Does the upholstery material feel comfortable? Does it have a reclining feature? Does it have a security feature like a locking mechanism? Does it glide smoothly without squeaky sounds? You need to think long term when buying nursery furniture. Make sure that there is a warranty period. A beautiful, high quality rocking chair can be with you for more than ten years. It should also look good even in your living room so you can still use it even when your baby has grown.
Gallery of Buying a Glider Rocking Chair for the Nursery
Tell us what you think about "Buying a Glider Rocking Chair for the Nursery"?