10+ Farmhouse Kitchen Table Ideas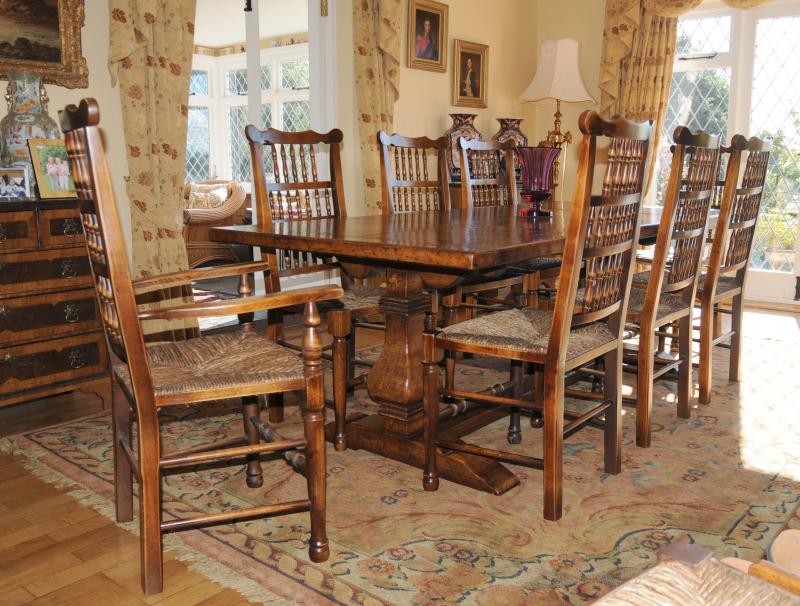 A kitchen table isn't always the most obvious choice for a furniture purchase when you're revamping your kitchen, especially a farmhouse kitchen table.
If you have a dining room, you might leave all of your dining and seating needs for other rooms in your house. However, for some homes the kitchen table is the nucleus of all the action and conversation. It's where family relationships are honed and developed, and where people spend time together informally relaxing and conversing.
This is truer for family farmhouses, where working families need a convenient space to relax and spend time together away from the hard work happening elsewhere on their land and in their outdoor space. They need an escape that is also a thoroughfare and in a simple location where people can catch up and take a break from work.
For these reasons, farmhouses rely on the kitchen table as a meeting space, and favor these over formal dining room tables for day to day socializing and eating.
If you're looking to bring some farmhouse tradition and lifestyle into your own home, you can gather both style and function with the simple addition of a farmhouse kitchen table – which can be an existing kitchen or a brand new makeover.
These kitchen tables often take a rectangular form with seating for four to eight people. Bigger options are available to purchase for larger homes that have more space or are needed to suit larger families, but many homes with standalone dining rooms may not have an overly spacious kitchen that allows much room for dining and seating.
Bringing a farmhouse style table into your kitchen can transform your home lifestyle with just one move.
Because these tables are used for such informal purposes and withstand a lot of pressure, they tend to look warm and inviting, but warm and distressed. Being in the midst of a kitchen and a thoroughfare means that these tables can get bashed about, but their traditional solid oak build make them sold and sturdy enough to defend against being used so often.
You can achieve a similar look with a new and more contemporary by adding small dents, sanding the table in the most usually worn places to give it a preloved and weary style.
Variations of these farmhouse kitchen tables are available, but they tend to always revert back to classic rectangular shapes with four legs. Sometimes, the legs may feature contrasting black or rustic metal fittings, or more ornate detailing to give the table an authentic vintage or antique feel.
If you have a more daring view on interior design or you're after a more authentic farmhouse kitchen feel, invest in a kitchen table that has added decoration of ceramic tiles on the surface, or a table which has been treated and painted in a classic farmhouse color of brown, green, burnt orange, or blue; all colors that carry the essence of the great outdoors and a farmyard.
Tell us what you think about "10+ Farmhouse Kitchen Table Ideas"?