10 Amazing Bay Window Curtains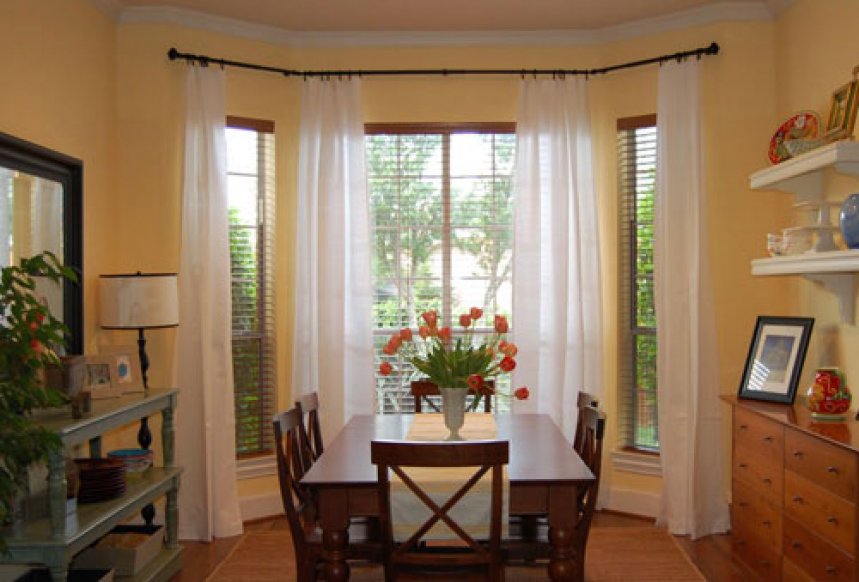 It can be difficult to decide which window treatment will be just right for your bay window. When it comes to bay window curtains, there are many fabric and decorating options to choose from. To help decide which window treatment is right for your bay window, you should decide what you want to use your bay window for.
Bay windows can have many different uses. You could use your bay window for decorating both the inside and outside your home. If you are going to use your bay window for decorating, a hanging curtain might be the perfect option for you. The curtain will be able to close in front of the display, allowing you to have privacy whenever you would like, while also allowing your display to be seen by passersby.
You could also use the window for a nice place to sit and read. By adding a cushion and a few throw pillows to your bay window, you'll have a relaxing spot all your own. If this is the use you intend for your bay window, panel curtains would suit you best. The panels can be adjusted to any length you'd like. They are also easy to adjust to suit your needs, making them the perfect option for a lounge area.
To get a cozier look for your room, your bay window curtains could be a combination of both hanging curtains and panel curtains. The hanging curtains would go on both sides of the bay window as decoration and the panel curtains could cover each individual window for privacy and blocking out sunlight. This combination allows you to have a little bit more fun with the colors and design of your curtains. To give your bay window a bold look you could use a decorative print for your hanging curtains and use a solid color for the panel curtains. Reversing this idea would also give a fun and creative vibe to your room. You could also mix and match the materials of the curtains. Using bamboo panel curtains and canvas hanging curtains would give your room a wild look while also giving it a laid back vibe.
If you are going to use your bay window for storage you might consider fitted hanging curtains that wrap around your bay windows. This will give your bay windows a comfortable feeling while making it easy for you to open and close the storage area when needed. Adding a nice cushion to the top of the bay window seat would give the entire window a sophisticated look and keep your storage area looking simple and clean.
There is always one look that is understated and simple no matter the use you intend for your bay window. This look would be to have no curtains at all. Bay windows on their own are a main focal point in any room. They do not always need a window treatment to look nice.
Consider the use of your bay window before choosing which curtain would work best for you. Bay windows are unique in their design, allowing endless options for choosing which bay window curtains are right for your home.
Tell us what you think about "10 Amazing Bay Window Curtains"?