Top 10 Living Room Shelves Ideas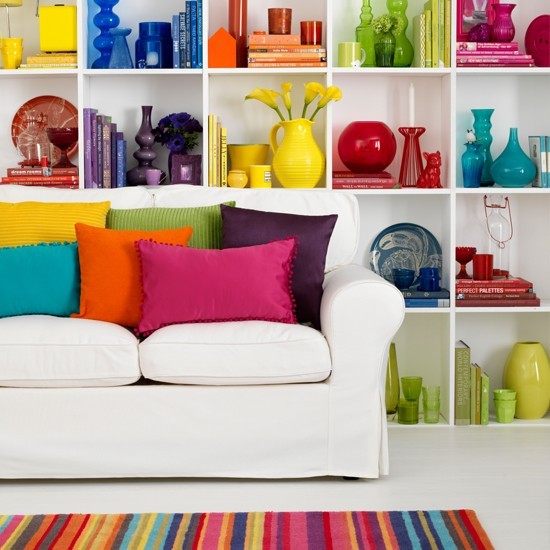 Living room shelves are an important functional and design tool for any living room looking to expand and add more 'stuff', without taking up any more floor space.
As a function, shelving can help you to make your living room tidier and more orderly by giving you more space to give more things a home. They also give us a stage to display out favourite pieces of décor, such as photo frames, books, and art that doesn't have a home elsewhere, but deserved to be showcased. The beauty, and fun, of shelves is that they can be made to any size or shape and from almost any material to provide us with the best living room storage solutions.
Fixed bracket shelving systems are the most popular, and the most traditional style of shelving, where a fixed bracket acts as a support for the larger shelf to lay on. Because it's now a lot simpler to remove the bracket and add a floating shelf, brackets are being used in living rooms as a design feature, usually of a contrasting colour or unusual shape, to add fun and uniqueness to the room. Floating living room shelves are very simple, and for that reason are extremely popular. They are simple to install, come in a range of colours and materials, but on the whole are uncomplicated and can be made to suit and fit any modern living room. These are certainly more suitable for modern styles of living room as the clean lines and block colours provide more contemporary style.
You can, of course, also choose a standing shelving system which can provide you more shelving space from the floor up to the height of the ceiling, but this might cause you to miss out on valuable floor space in smaller living rooms.
The choice of material used in your shelves is important to the interior design style of the room. The colour, texture, and essence of the material and what it brings to the room can really add something special to the room, become a key stand out feature, or act as a subtle and complementary feature that prioritises functionality.
Natural materials, such as wood and stone, are becoming more popular. As more villages and small towns are transforming into more urban spaces, we are becoming obsessed with using natural materials to make out homes feel more outdoorsy and closer to nature. And that's ok; because it works and it looks great. Wood is the more popular choice, with floating shelves made from traditional design woods such as solid oak paving the way. A more alternative version, and on that is lighter and so puts less pressure on the structure of your home, is laminate fronted shelves that look like wood or stone. Put these up a height, and nobody will ever know the difference!
Wood is super adaptable and it can be treated, painted, and finished to transform the style of your living room shelves completely. A raw piece of driftwood will bring an entirely different look to a matte oak floating shelf painted dark brown.
Gallery of Top 10 Living Room Shelves Ideas
Tell us what you think about "Top 10 Living Room Shelves Ideas"?