Choosing Bay Window Treatments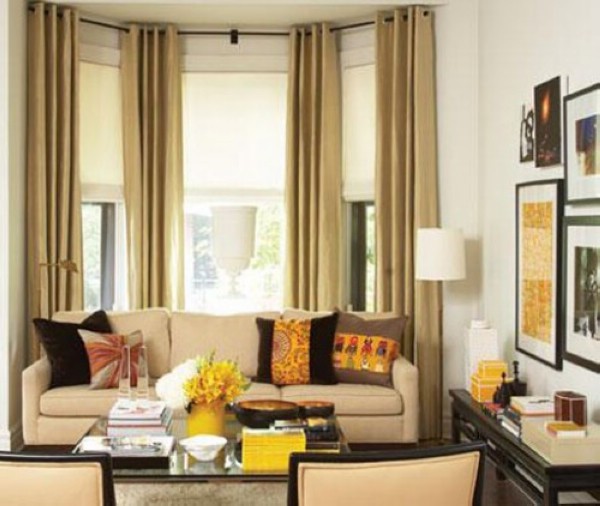 Are you at loss for the best bay window treatments? Deciding on the best bay window curtain or window treatment to use to jazz up your home could be a tricky decision. How do you frame something as huge as bay windows but still provide coverage so you will be able to enjoy privacy? The thing is, you need to choose between the two.
If you aim to impress and you want an unobstructed view from your room to the ocean or to a panoramic view of the city then you should choose curtains or treatments that frame your windows. There are many treatments that provide this; you may use large drapes, window valances or floor to ceiling curtain panels. These great window treatments will show off the great view outside and make your room extra special too.
If you want privacy but still you want to view the outside in the mornings or in the evening then you could use window treatments that provide a beautiful frame but a lot of coverage so you can do whatever you want without being seen. The best option is to use blinds, shades or shutters since these could be opened fully or partly opened and even easily removed so you can clean them.
Still there are even more great bay window treatments that you may use. You can match your bay window curtain colors with the rest of the fabric in the room to create a unified effect. One great idea is to match pillow case colors and rugs with your bay window curtains or match your curtain colors with your wall color. Remember that curtains or window treatments this large could make a huge impact in your room and therefore it has to complement other items inside the room as well.
When you choose window treatments such as curtains, think about how easy they are to clean. Curtains made of cotton or polyester could go straight to your washer and therefore easy to clean; you may also use a vacuum cleaner to remove dust time and again. Shades such as roman shades are a little hard to clean; you don't just place your fabric shades inside the washer! You may simply use a vacuum cleaner to remove dust and have it professionally cleaned once every month. The best bay window treatment ideas will make your room simply the most amazing area of your home!
Tell us what you think about "Choosing Bay Window Treatments"?