Create a Beautiful Kitchen Banquette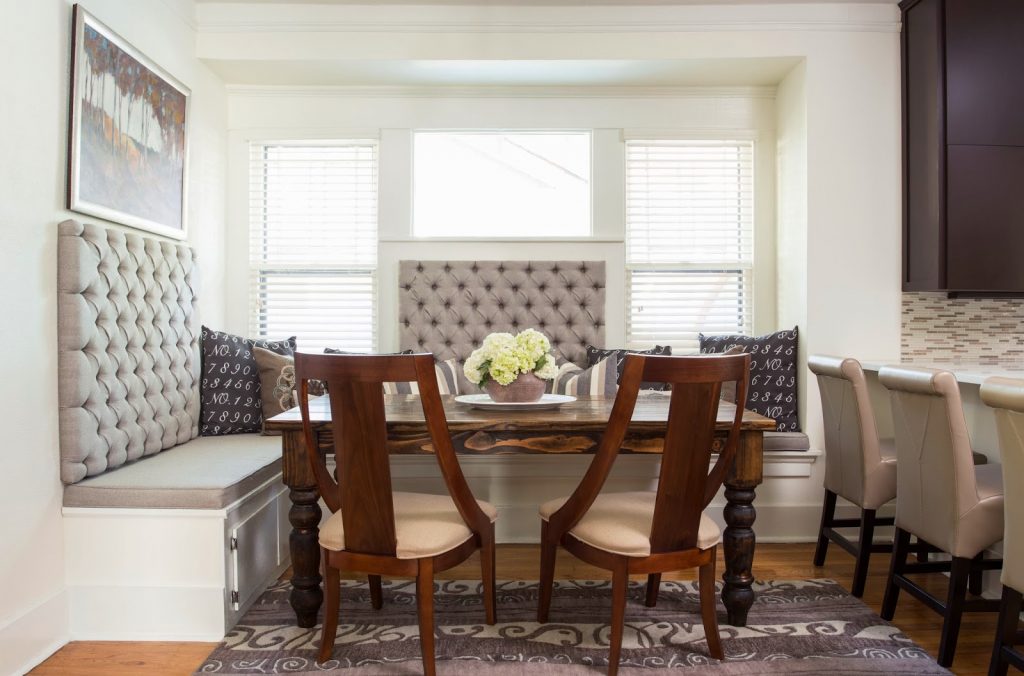 A kitchen banquette can add a cozy touch to any kitchen. They are great next to a window providing a great view and a comfortable seat and they can come in a variety of shapes and sizes to suit your kitchen. You can add a straight kitchen banquette to a small kitchen using it as seating for one side of a kitchen table with chairs on the other.
If you have a little more space try an L-shaped banquette or a closed nook. You will need 65" of space minimum in order to accommodate a closed nook banquette in your kitchen. This will allow for a 30" wide table with 15" on either side to the back of the seat, however this won't accommodate for large chairs with a thick back and more space will make it more comfortable giving you more options when choosing your seating. Keep between 3-5" of the seat edge hanging over the base in order to give your feet a comfortable amount of room for kick back. You can also try a curve or horseshoe shaped banquette to create a softer atmosphere or for pure visual interest. For a curved banquette and round table ensure that you have a min of a 36" diameter table if you plan on seating 4 people, this will allow each person to have 28" around the table, which is comfortable. 24" is considered the minimum space for each person at a table end and 30" is considered the ideal spacing – one way to get away with less room is to have smaller chairs or armless chairs.
Don't forget to proportion the size of your table to the booth as well. In either orientation consider angling the seat back to create a more comfortable sitting position – you won't regret this as one of the reasons to add a kitchen banquette is for more comfortable seating options!
You can make your kitchen banquette more than just the best seat in the house by adding storage underneath. Remember that this storage will be difficult to get at so don't use it for everyday items! Try adding cushions in a bright complementary color to make the booth seating more comfortable and cozy while making it a focal point and cohesive to the rest of the room. This is a great way to bring texture into a space that is traditionally all hard surfaced materials.
Try adding a tall headboard behind the bench, if it is not against a window, to elongate the seating feature, or keep it low and add your favorite painting behind it!
Gallery of Create a Beautiful Kitchen Banquette
Tell us what you think about "Create a Beautiful Kitchen Banquette"?