Curtains For Bay Windows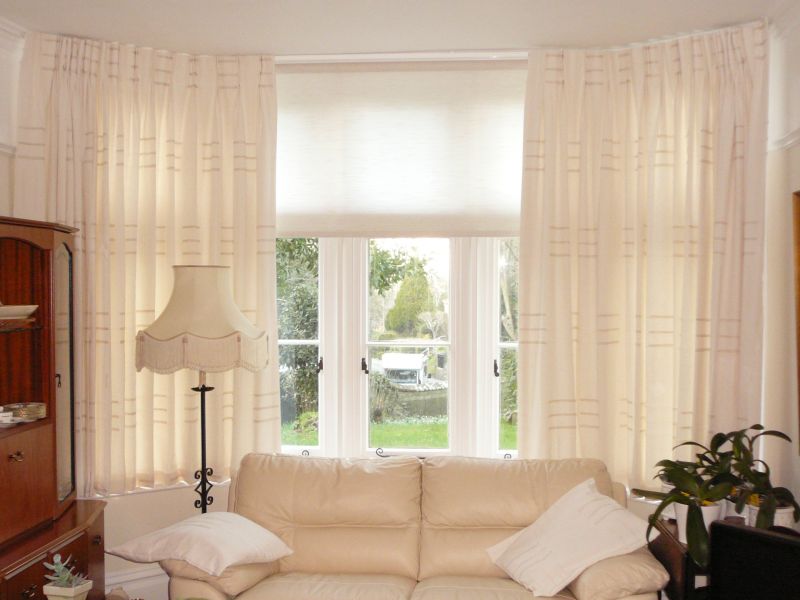 Is it possible to buy ready-made curtains for bay windows? This is one of the most common dilemmas of homeowners that are faced with the difficult challenge of dressing up or covering up large bay windows. Bay windows make rooms appear larger, warmer because of the size of the windows and definitely make any kind of home appear stylish. However, thinking of the best curtains and window treatments could be very frustrating and even downright costly. Are there ready-made curtains for this type of window?
Sadly, there are no easy solutions to solving bay window treatment needs. You need to rely on an expert seamstress to design and sew curtains, drapes or shades for you. Bay windows differ in size, shape and depth. Some bay window designs extend from ceiling to floor and from one end of the room to another. Still there are some bay windows that appear like a frame while there are windows that seem to go from one side of the room to another. Only an expert sewer will be able to make the most suitable window treatment solution that will maximize the size and the length of the bay windows that you have.
A seamstress will usually come to your home and take some measurements of your large bay windows. She will also consult you if you have any particular curtain design in mind. If you have, an expert will assess if this is possible and will recommend changes if there is a need to do so. An expert sewer will help you find the ideal material to use for your windows and this material should fit the other fabric inside the room. It should also be easy to care for and clean. A sewer will also help tie your room together by using fabrics of complimenting colors, shapes and designs. And if you are up to it, why not ask a seamstress to make two or three types of curtains for bay windows for your room!
Hiring a seamstress could be expensive but will definitely be worth it. But if you just can't afford to hire a seamstress you may find other alternatives. There are blinds that you could fit over your bay windows as well as shades. It is therefore very important to get the exact measurements of your windows before you head off to the store to purchase your curtains for bay windows.
Tell us what you think about "Curtains For Bay Windows"?