Don't Stress over Distressed Kitchen Cabinets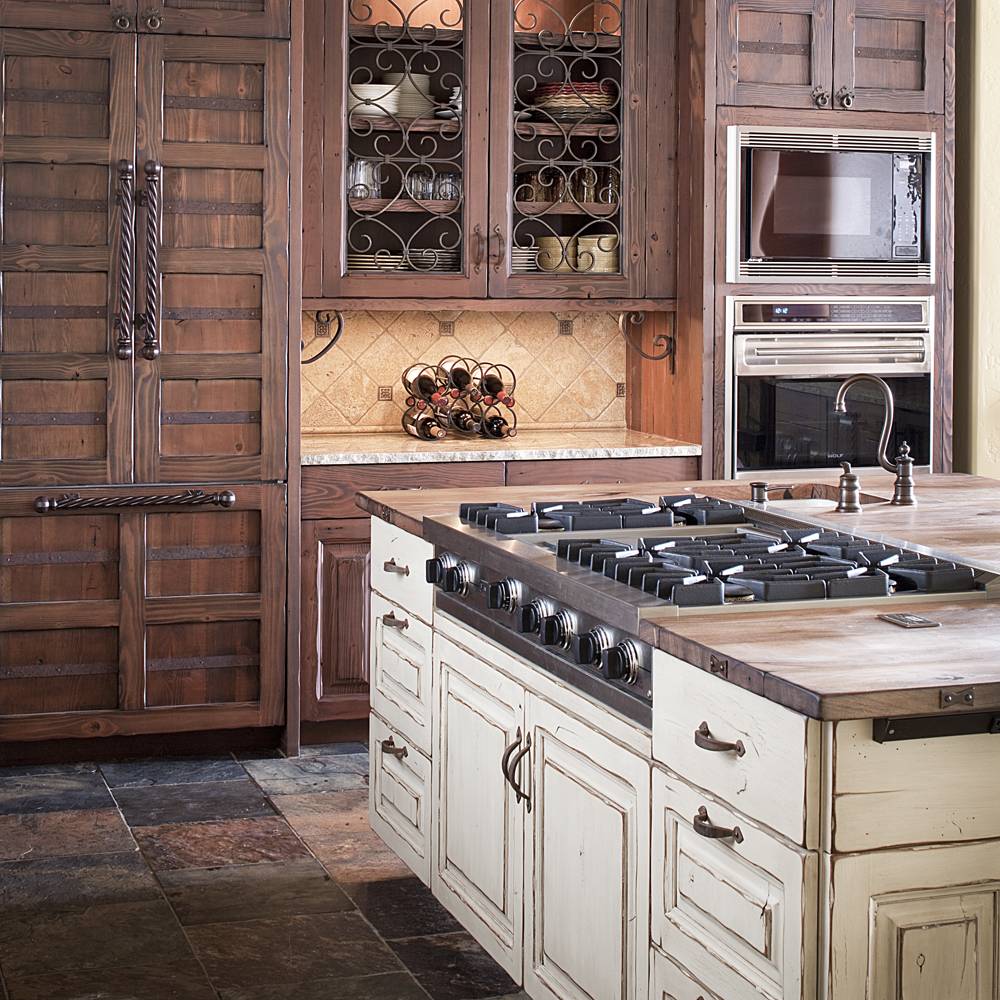 Distressed Kitchen Cabinets are a great way to mix a put together and a relaxed vibe. They look beautiful in a variety of colors anywhere from a rich turquoise, to a pale yellow or a traditional white. They can either become a unique focal point of your kitchen or a simple accent piece depending on the color and the environment. Distressed cabinets are a great way to complete any traditional, antique or country chic kitchen. Why not try ornate or antique handles or detailed doors to emphasize the aged style.  Be careful if the rest of your kitchen looks sharp and contemporary, you may want to stay away from distressed cabinets as they will look out of place or worse – grungy.
If you choose to do distressed kitchen cabinets you will want to stay away from distressing any of the other large material choices, such as flooring as it will look too matchy-matchy and sacrifice the sophisticated elegance of the cabinets. Instead opt for simple and clean flooring in laminate, tile or wood and a less granular looking counter – these choices will ensure that the cabinets stand out, in a good way!  Instead of over matching a great way to extend the traditional look into other elements of the room is to pick a traditional or Victorian style kitchen stool or chair, like the Queen Anne chair to compliment to style without overdoing it. If you are going for a country chic kitchen try a sink with an apron to emphasize the style.
You can choose whether you would like to distress your existing cabinets or buy newly distressed cabinetry. The process of distressing your own cabinets involves removing the cabinet hardware, sanding, using a tinting glaze to add the distressed look to the cabinets, which must be wiped off quickly before it dries and then finished them with a sealing agent. If your existing cabinets have beautiful or ornate detailing they are a great choice for a DIY distress job as the groves hold the extra tinting glaze making those areas darker and accentuating the detailing. These details also amplify the antique look distressing intends, so they look intentionally worn and natural.
These beautiful distressed kitchen cabinets have an added benefit, since they intentionally look aged and rustic they will wear better than traditional cabinetry. While the varied color tones they won't show dirt as much as other cupboards either!
Gallery of Don't Stress over Distressed Kitchen Cabinets
Tell us what you think about "Don't Stress over Distressed Kitchen Cabinets"?