Kitchen Carts and Islands in the Hub of Your Home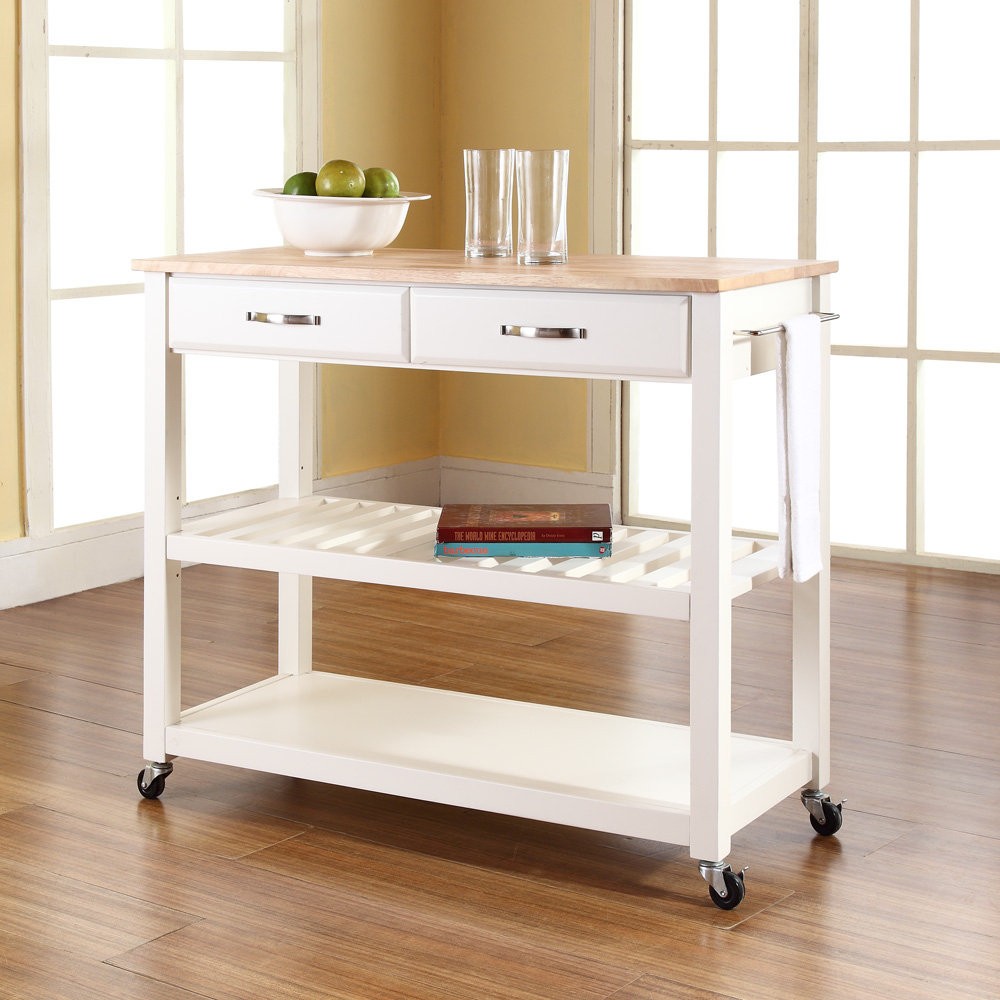 Do you prize counter and storage space in your kitchen? You're not alone. Kitchens are often a gathering place within the home for visiting, talking, cooking, homework, unwinding after a long day, coffee clutches, and entertaining. Yes, for many folks, their kitchen is the hub of their home; with the importance and multi-purposes that kitchens often serve, counter and storage space are highly prized by renters and homeowners alike. It is precisely this that makes kitchen carts and islands such hot commodities! While carts are a perfect solution for renters or those with a smaller kitchen, full-blown islands are an awesome addition to a larger kitchen space.
Kitchen carts and islands are great ways to maximize space and storage. They provide additional countertop space for preparing food, serving snacks and meals to family and guests, and for merely holding cutlery, fruit bowls, or other items you would normally keep on the countertop. Plus, the extra storage space within the cart is incredibly valuable for keeping a multitude of items—everything from paper goods and dishes to pots, pans, and small appliances. Kitchen carts, in particular, are very handy for renters—who are usually prohibited from permanently altering the kitchen of their rental by installing a more permanent island—because the carts are moveable, oftentimes with casters (or wheels) attached. This also allows for the convenience of being able to move the cart to where you might need that extra counter space at any given time—to serve as a drink station for parties or as a buffet table for guests. Kitchen carts are also a wonderful solution for those with a smaller kitchen that won't accommodate a more substantial size island, allowing you the benefits of an island in a smaller package. Carts come in a wide variety of materials and styles—modern looking stainless steel to a very cottage and rustic carved wood. Such flexibility and choice makes kitchen carts a wonderful solution in today's kitchens.
There's no denying that kitchen carts and islands are a wonderful addition to any kitchen that has the space to house them. In fact, in larger kitchens, a sizeable island can make for an excellent space for serving food, creating a buffet area, and yes—it's a great place for homework to be completed! You may be wondering about what qualifies as a kitchen island over a kitchen cart: while carts are generally mobile, kitchen islands usually are not. However, this lack of mobility does not totally limit your choices. There are islands that are basically a larger piece of furniture akin to a counter height table with a countertop and storage below. And there is, of course, the type of kitchen island that is more permanently installed by attaching it to the flooring. The latter usually offers additional cabinet space for storage, whereas the former generally offers a more open type of shelving as its storage.
Both kinds of kitchen islands—much like the carts—are available in a wide variety of styles and materials; many feature countertops of stainless steel, granite, marble, and butcher block. There are also islands that offer you the option of having an additional seating and eating space, such as a breakfast bar, which is usually accessed with counter height or bar stools. No matter what you're looking for, you'll certainly find and island that coordinates well with your current cabinetry and countertops. In fact, regardless of whether a kitchen cart or a kitchen island best suit your needs, you will have plenty of choices for this highly useful and beautiful addition to your kitchen.
Tell us what you think about "Kitchen Carts and Islands in the Hub of Your Home"?