Oval Bathroom Mirrors Photos and Ideas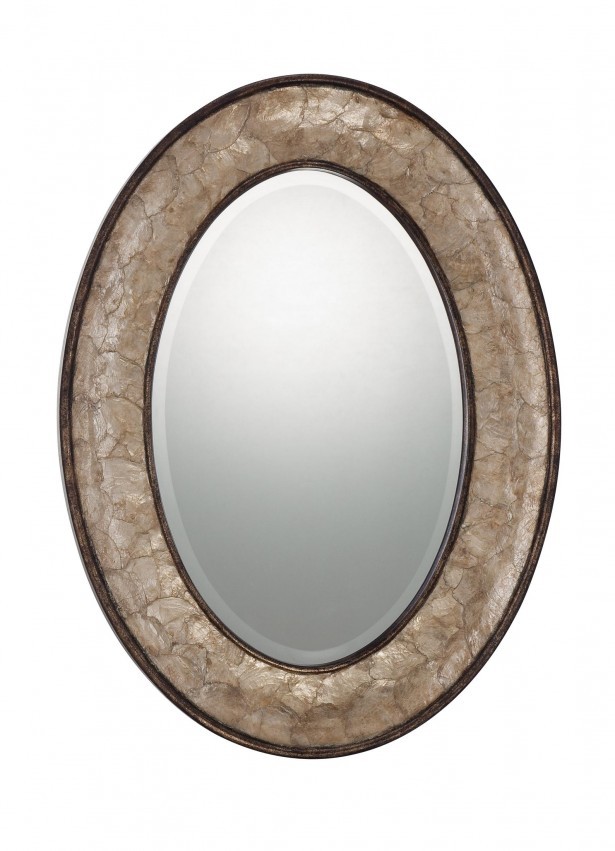 Mirror, Mirror on the wall… what's the fairest mirror of all? Mirrors are a must in any bathroom. We use them to brush our teeth, shave, apply make-up, style our hair, adjust our clothing, spot unwanted hair for removal, and ponder our outer beauty. They also add dimension and depth to the overall room. But did you know that the shape of your bathroom mirror makes an impact on the entire room? Yes, Dearie, there is a fairest mirror shape of them all… oval bathroom mirrors.
The shape of the mirror lends to the style and feel of your bathroom oasis. The design of the mirror can make any statement you want to have made in the confines of your bathroom space. But make no mistake; the oval bathroom mirror is the queen of all bathroom mirrors.
Your bathroom is a sacred place—it is where you bathe, you primp, you do your business, you take care of all matters of hygiene. You want a special space for these various activities. You want a space that is serene and rejuvenating. You need a space that is fair to the eye while still being functional. Oval bathroom mirrors are the perfect shape of mirror for bathrooms because of these very needs.
The round nature of the oval offers a subtle and delicate softness that abrupt and angular rectangle mirrors—with their sides and corners—simply cannot provide. Oval mirrors by their very nature create a visually calm and organic flow on the wall in front of you as your perform your many tasks. And yet, while promoting serenity, the elongation of an oval (over, say, a circle) provides a subtle sophistication, as well as allowing you to see more of the length of your body in an oval mirror, rather than a circle.
Now, you may be thinking that your more hip, modern bathroom cannot and does not want the trappings of what you might see as the old fashioned, stodgy manner of oval bathroom mirrors. You are implored to give the oval mirror a second look! Oval mirrors no longer just come in the styles that you're great-grandmother knew.
These days, they're available in both framed and frameless styles; and among those styles are virtually endless designs! Framed oval mirrors come in just about any kind of frame you can possibly conceive—ornately designed metals, intricately carved wood, simply styled wood, contemporary plastic, rhinestone-bedazzled frames, vintage frames, antique window frames, molded resins (in various decors). With amazing options in frame colors, you will surely find one that calls to you and your bathroom.
For a really out-of-the-box mirror frame, there are even mirror frames for the mirror itself. In the equally elegant frameless mirror category, your choices include beveled or unbeveled; some frameless mirrors even have arms that are mounted to the wall, allowing you to tilt the mirror as needed. There's also the infinity mirror, which certainly fits into the category of unique. In addition to coming in a myriad of styles, oval bathroom mirrors come in a variety of sizes to fit your bathroom size and needs.
With all of these choices and variety, plus the elegance and serenity of the oval shape, you are hard-pressed to find a more beautiful type of mirror for your beautiful bathroom oasis.
Tell us what you think about "Oval Bathroom Mirrors Photos and Ideas"?