Kitchen Island Pendant Lighting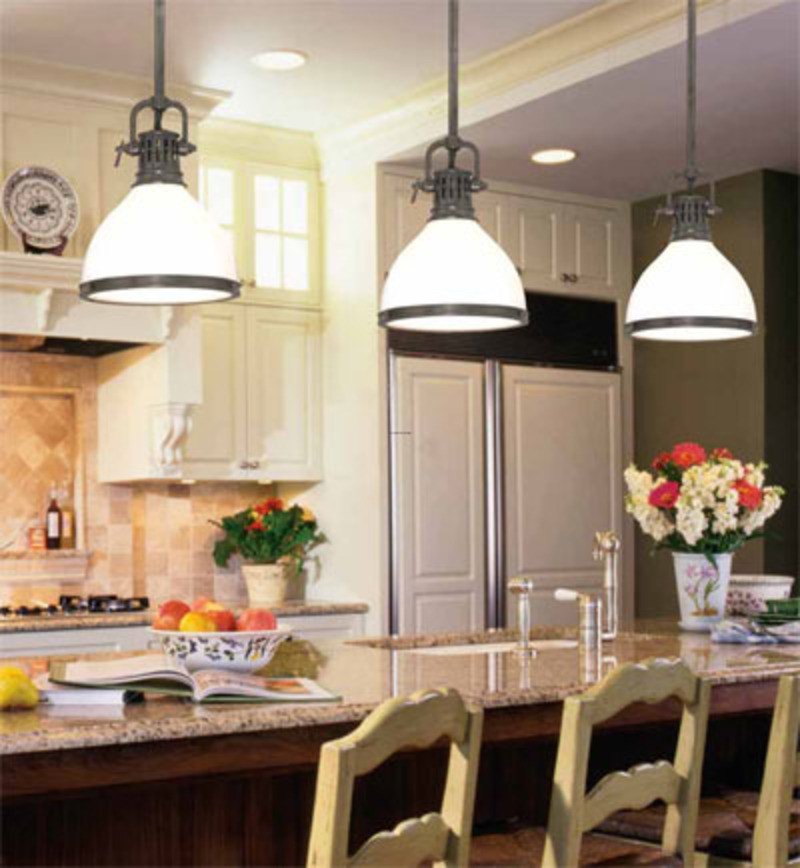 If the kitchen is the heart of the home, then the kitchen island is the command post of the hustle and bustle of your joyfully busy kitchen. With this in mind, your choice of kitchen island pendant lighting is crucial to making the most of your island workspace, allowing you to prepare your culinary masterpieces and have a bright enough space to chit-chat as you create.
Pendant lighting is unique because each pendant is independent, and you can have as few or as many pendants over your kitchen island as you wish or as you need to accomplish your lighting goals. Plus, they come in a myriad of choices and styles—contemporary, commercial, organic, minimalist, industrial, vintage or French country, and eclectic—which takes a special eye to achieve. You'll have no shortage of choices for your kitchen space.
There are many pendant choices when you want a contemporary or modern look for your kitchen island pendant lighting. For example, a cylindrical or drum style pendant conveys a very modern feel in a kitchen space. Metal pendants also draw upon the contemporary style, as do simple, clear glass fixtures. All of these types of pendants possess cool, sleek lines that thrive in a more modern kitchen setting.
For the look of a commercial kitchen—such as a restaurant kitchen—larger, metal pendants, with their shiny, silvery round shades do the trick. Along the same lines, there are pendants with a mix of metal and simple Earth tone shades that create a hip industrial look—perfect for a renovated, industrial type of loft space. Of course, if you're more of a minimalist, then pendant lights made of simple materials and an uncomplicated flow and style will give you the desired effect.
Perhaps you own a craftsman style house and are going for a more organic style—then choose kitchen island pendant lighting consisting of earthy tones and materials, which bring unparalleled warmth to your kitchen island. Or you can create that feel with a round pendant that is reminiscent of a juicy apple, either red or green—that suggestion of an apple generates a very natural, essential look.
Yet another great feel that fits with the organic style, as well as vintage or country, is a pendant with a glass shade in warm colors; the glow from these types of shades spread a golden light across your homey island area. If your kitchen style is in the complete opposite décor direction–ultra-glamorous, perhaps—then pendants that feature crystals, much like a classic French chandelier, are radiant. Speaking of French-inspired looks, French country pendants with shimmer and ornate features are beautiful in more vintage kitchens, or as an unexpected pop of glitz in a simpler kitchen.
Lastly, if you have the chops and the clever eye for mixing and matching lighting pieces and styles, you can achieve a treasured, eclectic look with your kitchen island lighting. Pendants may seem like just one type of lighting (which is true), but within this one type of island lighting, you have unfathomable range of choice and style to add that perfect lighting accent to your beautiful kitchen island area.
Tell us what you think about "Kitchen Island Pendant Lighting"?