Teenage Girl Room Ideas and Designs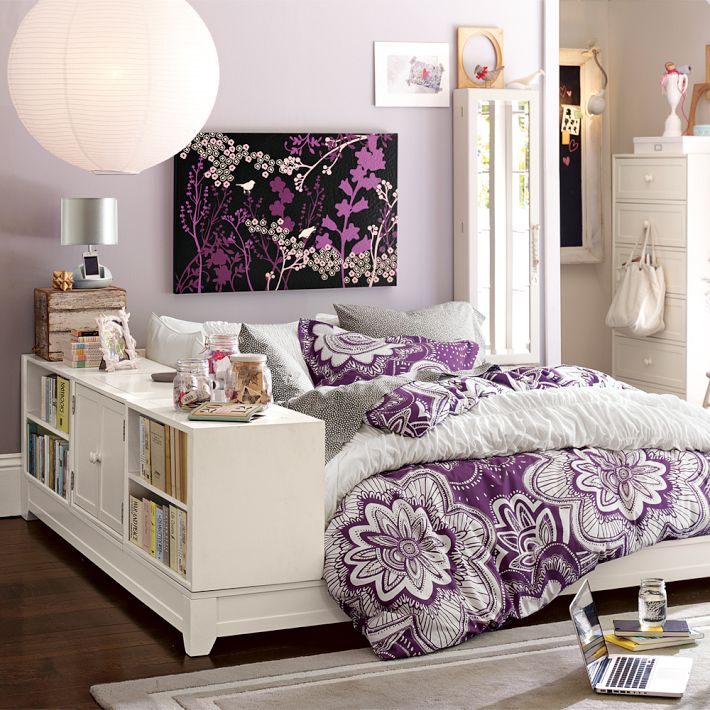 There are a lot of teenage girl room ideas to choose from but before you start tearing up her room and rummaging through her closet, be sure to consider what your teen would want in her room. Sit down and plan the renovation with your teenage daughter. You will be surprised as to what your child actually likes! And you may not know that what you want to do is actually completely the opposite of what she likes!
After you and your daughter have settled on a particular design, it's time to plan on the possible materials that you will use. For a sleek modern look, your teenage girl room ideas may include using wood, metal and glass. But of course you need to include other features such as durability, ease of use and the price.
For a child that is musically inclined, a room that fits her talents and her personality would be greatly appreciated. For instance decorate the room with striking drawings of notes, staff, G and E clefts and silhouettes of different instruments that she plays. Create a flowing chord of a song from one wall to another. The wall color could be any shade but the chord should be in black or white. The chord should be a song that she likes most.
Some great teenage girl room ideas especially for small rooms is to magically transform a bunk bed into a bed and study in one. Your child sleeps on top; make this part of the bed the most comfortable with plush fabric and bedding. A small shelf could house books, a night lamp and some small trinkets. At the bottom part of the bed, instead of a cushion, a table is set as well as overhead storage spaces, a place to hang a small flat screen television and of course an area where he could place a personal computer. This is the study area. There are so many variations of this bed and study idea and usually this is used for small rooms such as boarding houses and condominium units.
Need some more unique teenage girl room ideas? Transform a dull room into a room that fits your teen's personality by drawing her favorite characters on the wall. Use this chance to appreciate a creative child's talents! Let her design, draw and paint her own room; she can even invite friends over to help her out!
Tell us what you think about "Teenage Girl Room Ideas and Designs"?