Rope Yourself a Cowhide Chair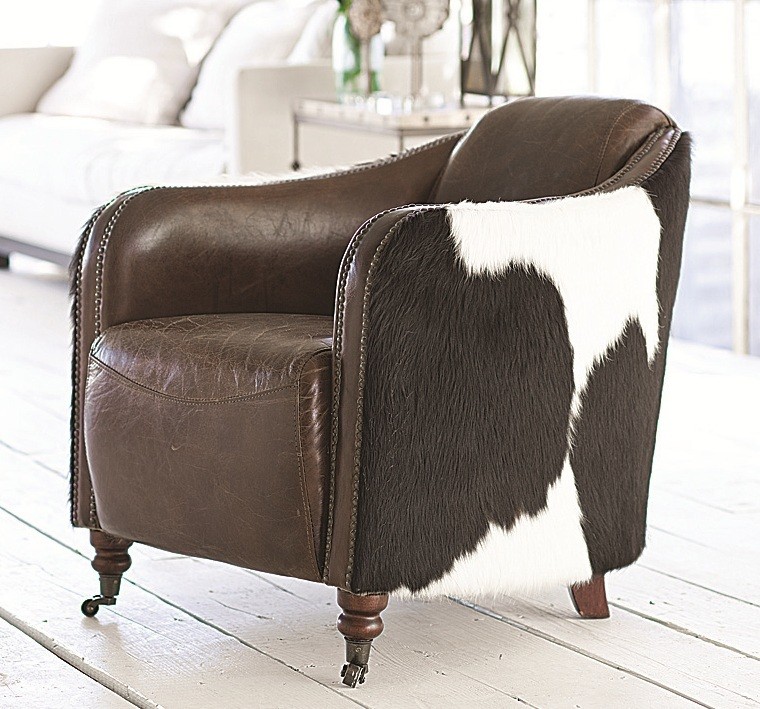 When your doggies need a comfortable place to rest from all that rollin', rollin', rollin' in your busy days and hectic lifestyle, a cowhide chair can be the perfect, yet stylish, place to hunker down. Comfortable, timeless, and versatile, cowhide chairs can be an amazing accent to your already existing western theme or a surprising conversation piece in a room with a totally different style.  Hold the phone… dare you pair cowhide with other types of décor? Yessirree! It's true that although we often associate the use of cowhide with the quintessential ranch-style or western theme, cowhide can most definitely be used in any of your desired spaces, regardless of whether it has an eclectic feel, a country vibe, a shabby chic tone, or even a very contemporary palette.
The very nature of cowhide adds a bold and organic feel to any room's theme; it is an especially good pairing with modern designs, creating a great contrast and that often sought after "wow" factor. From L.A. to Texas to Florida and all points in-between, cowhide is a wonderful part of various décor themes in many homes.
It may surprise you that the term cowhide can mean various things when it comes to what cowhide consists of and how it looks. Of course, it can embody that classic black and white or brown and white material that is reminiscent of, well, actual cowhide; this is often what comes to mind when you hear the term cowhide. It can also mean the leather that you're very accustomed to seeing, which is an incredibly durable and versatile material that comes in a variety of warm, rich colors.
And, wonder of wonders, cowhide can also mean a literal combination of the two looks, which often complement each other when used on the same piece. Imagine a cowhide chair with the classic brown-and-white pattern paired with simmering brown leather—now that's a chair that would practically beg you to come and sit a spell!
Depending on style and placement of your chosen piece, your cowhide chair can foster a touch of playful whimsy or a splash of wild fun, in addition to the classic organic feeling of warmth and comfort that cowhide inevitably adds to just about any space. And the versatility is amazing; imagine a lovely cowhide chair bringing frivolity to your living room or family room; envision the warmth and welcoming tone that such a piece could add to your entry way or foyer; visualize the organically-inspired comfort that a cowhide piece could add to a guest bedroom or your private master's retreat; or create a dining fantasy when you unexpectedly pair a sleek and modern dining table with comfortable and eye-catching cowhide chairs—what an amazingly bold statement!
The wide-open sky is the limit for how you can use this lovely material in your home. However you choose to use such a wonderful piece in your abode, cowhide can instantly infuse a room with interest because of its inherently natural color and texture.
Tell us what you think about "Rope Yourself a Cowhide Chair"?